Challenge Monday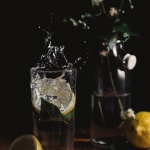 EVERY morning when you wake up and your feet hit the ground this week, you're going to:
Drink a big glass of water with a squeeze of fresh lemon. Wait until it settles, then perform:

20 squats

20 push-ups

20 jumping jacks

Stretch for 2-5 minutes
It's a great way to get your day started, blood flowing, and wake up your muscles and mind!
Are you IN for this week's Groundhog Day challenge? 
Post to our FB group and let us all know! 
Tuesday Tipster
Think it will break the bank to eat organic?  Think again! 
Check out this list of over 75 ways you can pick up quality, non-GMO, and organic food on a budget: http://foodbabe.com/2013/05/20/how-to-eat-organic-on-a-budget/
Recipe Wednesday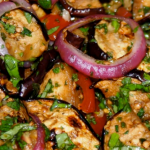 Chilled Eggplant & Sun-dried Tomato Salad   (serves 2)
INGREDIENTS:
1 large eggplant, sliced into 1" thick pieces
4 ounces sun dried tomatoes in olive oil
¼ cup fresh basil leaves, chopped
2 tablespoons extra virgin olive oil
4 cups wild arugula, washed and spun dry
¼ red onion, sliced thinly
INSTRUCTIONS:
Preheat oven to broil.  Place eggplant on wire rack and cook 10-15 minutes flipping every few minutes and keeping a close eye to prevent charring (will be on the crisp side.)
Remove from oven and let sit until cool enough to handle.  Place tomato (if using sun-dried; if using fresh, wait until right before serving to add), basil and oil in food processor.
Whiz until coarsely chopped.  Place in glass or ceramic bowl and stir eggplant in and cover tightly.  Chill overnight; remove from refrigerator 10 - 15 minutes before serving on top of arugula, with onion on top of that as a starter or add your favorite protein to create a full meal.  
[Credit: Paleoista.com]
Thoughtful Thursday
What makes every day better?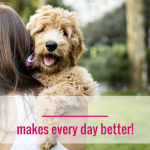 Hugging your dog?
Playing with your kids?
Walking in nature?
Reading a great book?
Visiting a friend or relative?
Soaking in a hot bath?
Petting your cat?
Doing things that make you happy will reduce stress and possibly lower your blood pressure!  I call that a "win-win!" 
Share with us the thing that makes every day better for you!
Weekend Warrior Workout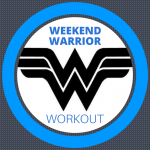 Complete 4 rounds in your best time with proper form.
Warm-up and cool down for 5-10 minutes each.
25 M Bear Crawl
25 Triceps Dips
25 Lateral Lunge + Curl to Press
25 Squat Hold with overhead Triceps Extension