Challenge Monday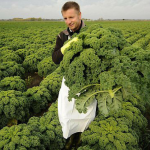 KALE Challenge:  Go GREEN Kale for St. Patrick's Day!
This week, I'm challenging you to a 5-Day Superfood Challenge!
Kale is not always a #1 favorite, but it is a nutrient-packed superfood with so many health benefits:
Helps with Diet and Digestion

Loaded with Antioxidants

Anti-Inflammatory

Can help Prevent Cancer

Cardiovascular Support

Detoxes the Body

Loaded with Vitamin K, Vitamin A, Vitamin C
Read this article to get more information on the incredible benefits of Kale: http://draxe.com/health-benefits-of-kale/
Your challenge this week is to incorporate Kale into one meal per day for 5 days this week!  You can enjoy Kale in so many different ways. You can add it to smoothies, salads, make hummus, and even chips!
I also found a really delicious Shrimp, Kale, & Sweet Potato Skillet recipe you can try for dinner: www.primaverakitchen.com/sweet-potato-kale-and-shrimp-skillet/
Important note:  If you are on blood thinners, please check with your doctor before adding a lot of kale into your diet.
Do you accept my Kale CHALLENGE!?
Let me know in a comment below and make sure to take photos of your kale dishes to share with us!
Tuesday Tipster
Did you know that one 20-ounce coke has more sugar in it than a large Cinnabon?  65 grams of sugar is packed into one plastic bottle.  Diet soda isn't a better alternative because it will mess with your brain AND has been proven not to be great for your waistline even though it contains no calories. 
Instead, go for a nice cold glass of water and flavor it with some fresh lemon, lime, or strawberry. Search the web for "Infuser Water Bottle" for a fun way to flavor your water.
Recipe Wednesday
Roasted Carrots with Kale-Pumpkin Seed Pesto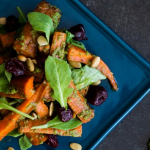 INGREDIENTS:
1 bunch skinny carrots, tops removed, peeled
2 tablespoons olive oil
2 teaspoons salt
For pesto:
1/2 cup pumpkin seeds
1 clove garlic
2 tablespoons grated Parmesan
2 large kale leaves, chopped
2 teaspoons lemon juice
2 tablespoons water
1/2 teaspoon pumpkin spice
1/2 teaspoon salt
1/3 cup extra-virgin olive oil
INSTRUCTIONS:
Preheat oven to 500 degrees.
Coat carrots with oil and salt.  Place on a baking sheet and roast for 15 minutes until well charred and easily pierced by a knife.
While carrots are roasting, make pesto by placing all ingredients except olive oil into a small mini chopper or blender.  Grind on medium speed until coarse, then slowly pour in olive oil to emulsify into grainy pesto. Adjust seasoning to taste.
When carrots are cooked, remove from oven and cut in half lengthwise and crosswise. Dress with pesto to serve. 
[Credit: Greatist.com]
Thoughtful Thursday
 We are all about challenging ourselves to reach for something better from working out and eating well, but let's not forget that relaxation and down time is just as important. Balance is the key to a great life.
What do you do to relax? Do you like to read? Some people like to get out in nature. Maybe a round of golf or an afternoon in your garden?
One way Susan and I relax is by watching movies.  Are you taking time for yourself?  If not, put some "down time" on the calendar this weekend!
What is your favorite way to relax?  Share with us in a comment below!
At Home Band Workout
Happy St. Patrick's Day!  In honor of St. Patty's Day, let's do the Lucky 7's Shamrock.
Complete 3-4 rounds with proper form for time.
Warm-up and cool down for 5-10 minutes each