Weekly Challenge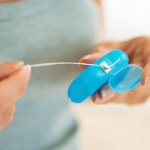 Flossing Challenge!                                                                                                                  
Floss every day?  Most of us don't…even though it's been proven to remove about 40% of the sticky bacteria and plaque from your teeth.  True truth!
Flossing may not show instant results, but it seriously helps with preserving the health of your teeth, gums, and beauty of your smile.
Plaque produces acid, and if left unclean may cause cavities, irritate the gums, and lead to gum disease.   That means scheduling an unwanted drip to the dentist!
Here's one tip to perfect your flossing technique:
Use a piece of floss 15 to 18 inches long, slide it between the teeth, wrap it around the tooth in the shape of a "C," and polish with an up and down motion.
Flossing is tedious, but it keeps your teeth and gums healthy and looking good.
This week is all about perfecting your flossing technique and creating a new lifestyle habit by flossing EVERY day this week!
Are you in for the challenge? Let me know in the comments below!
Weekly Tipster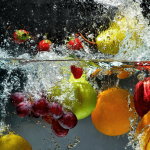 According to research from the University of Maine, the best way to clean fruits and vegetables to remove unwanted bacteria and dirt is simply to use cold water.  If the produce has thick skin, you can use a soft brush. Produce like lettuce and broccoli should be soaked for 1-2 minutes in clean, cold water.No need to buy expensive organic cleaners when cold water works just as well!
Weekly Recipe
Green Tea Lime Pie Smoothie Bowl (serves 1 bowl or 2 cups)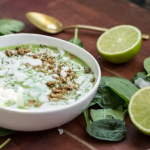 INGREDIENTS:
For the smoothie:
3/4 cup coconut water
1 cup fresh baby spinach
1 large frozen banana
packed 1/4 cup avocado
2 teaspoons lime zest
1 tablespoon + 1 teaspoon fresh lime juice
2 ice cubes
1-2 teaspoons pure maple syrup, to taste
1/4 teaspoon Matcha green tea powder, optional
Topping ideas:
granola
melted coconut butter
large flake dried coconut
Matcha green tea powder
lime zest
hemp hearts
INSTRUCTIONS:
Add all the smoothie ingredients into a high-speed blender and blend on high until smooth.  Adjust sweetness if desired.  Pour into a bowl and sprinkle on the toppings of your choice. 
[Credit: OhSheGlows.com]
Weekly Thought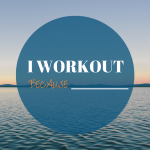 We all start lifestyle changes for our own personal reasons.  Some of us want to lose weight; others want to focus on a healthier, stronger body.  We usually start out like gangbusters, but if you are like most people, your self-control and discipline begins to wane after a short time, only to find yourself back where you started, weeks later. 
Here is a trick to help keep you from backsliding…before you begin any major change, write down the reasons why you want to do it.  Make it as descriptive as possible and even include images, if you can.  The trick is to bring back the same emotions you had at the beginning of your journey.  Reconnecting to the deep reason for your lifestyle change will help you get through the tough times we all experience when making changes.
Also, be kind to yourself.  Your goal it to make lasting changes.  You are not striving for perfection, just forward movement!
Weekend Warrior Workout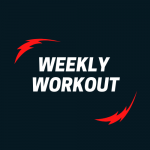 Descending 10 to 2 Ladder.  Reps 10, 8, 6, 4, 2.  Rest as needed. 
Warm-up and cool down for 5-10 minutes each.
10 Renegade Rows

10 Pike Push Up

10 Mountain Climbers

10 Hollow Snaps

10 Marching Glue Bridge
Renegade Rows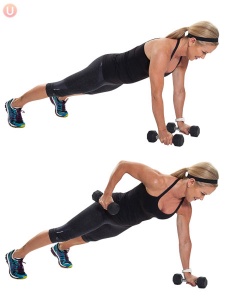 Pike Push Ups
Marching Bridge
Hallow Snaps